Folks, we've got a special post for you today, coming to you from That's Entertainment, where this post first went live.  I've been a huge fan of tabletop RPGs for years, and even run my own Tellest-themed D&D campaign, as you might be aware.  So I'm always looking at new ways to integrate awesome technology and playthings into my sessions.  I've shaken stuff up a lot over the years, but today's product, a miniature that's live on Kickstarter is definitely going to get people talking.  It's perhaps one of the coolest ways I've seen recently to bring characters, NPCs, and monsters to life the way you want to on your game maps.
Read on to learn more about the AnyMini!
An electronic miniature for tabletop RPGs (TTRPG). The AnyMini allows you to create miniatures in seconds and carry them with you.
We featured an early look at the AnyMini a few months ago and IT'S FINALLY HERE. Before we jump into this amazing new product for DMs, GMs, and players alike, let's take a closer look at what the AnyMini is!
The AnyMini is an electronic miniature with two screens for use in tabletop role-playing games. It takes the greatest elements of paper minis and makes setting them up on a table quick and simple. With the website's 100% free AnyMini Editor, you can quickly turn any image into a mini. The AnyMini was created with a few extra features like conditions and numbering to be as easy to use as paper minis and as easy to make as digital minis. With just a few devices, you could manage a full campaign that included hundreds of distinct NPCs and creatures.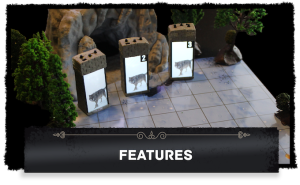 NO SOFTWARE TO INSTALL. The AnyMini doesn't require you to install any software.  No accounts to create or apps on your phone or PC.  Adding minis to it is as easy as using a thumb drive.
AMAZING SCREENS. The AnyMini utilizes two high resolution (170×320) screens, the largest and nicest I could fit in there so your minis have outstanding image quality.  You can choose to mirror the same image to both screens or choose unique images for the front and back.
LONG BATTERY LIFE. Boasting 6 to 8 hours of battery life depending on the screen brightness.  The AnyMini has a 600mah LIPO battery and charges up super quick.
HUGE STORAGE. With storage for around 100 minis on a device, your can preload all the minis you could need on game night and have them ready to go at the table.  With fast scrolling between minis, you can find the right one quickly.
FREE IMAGE EDITOR. I created a super easy-to-use app on the AnyMinis.com website that will take any image you find on the internet and create a mini in literally a few seconds.  Just copy the image, paste it into the utility, and click download.  Drop that file on the AnyMini and you are ready to roll initiative!  The Image editor will be available for free, forever, with no accounts or logins required.
SIZE. The AnyMini is compatible with a 1-inch grid.  The screens are intentionally kept as close to the map as possible so you can scale the minis to a proper height with your physical minis.
CONDITIONS & NUMBERING. Easily set conditions on your minis without having to use rings.  The numbering helps you keep track of individual minis if you have more than one of the creature types on the map.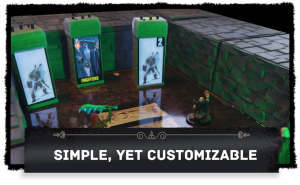 Anyminis are easy to use and easy to customize.
The AnyMini only has three buttons and a power switch.  There's a button to change the mode and a forward & back button.  This isn't a complicated device, which allows our eyes to be on the game, not messing with electronics. Conditions, numbering, screen brightness, button layouts and etc. will allow you to use the AnyMini the way you want to use it. As for the code itself, the AnyMini uses a custom designed rp2040 board and is currently running circuit python.  The source code will be made available on the website to anyone wanting to tinker.  The AnyMini will not be a closed system, it's your mini, use it how you want.
There are a ton of great goals beyond funding too! From general improvements to themed cases, animated gifs, and more!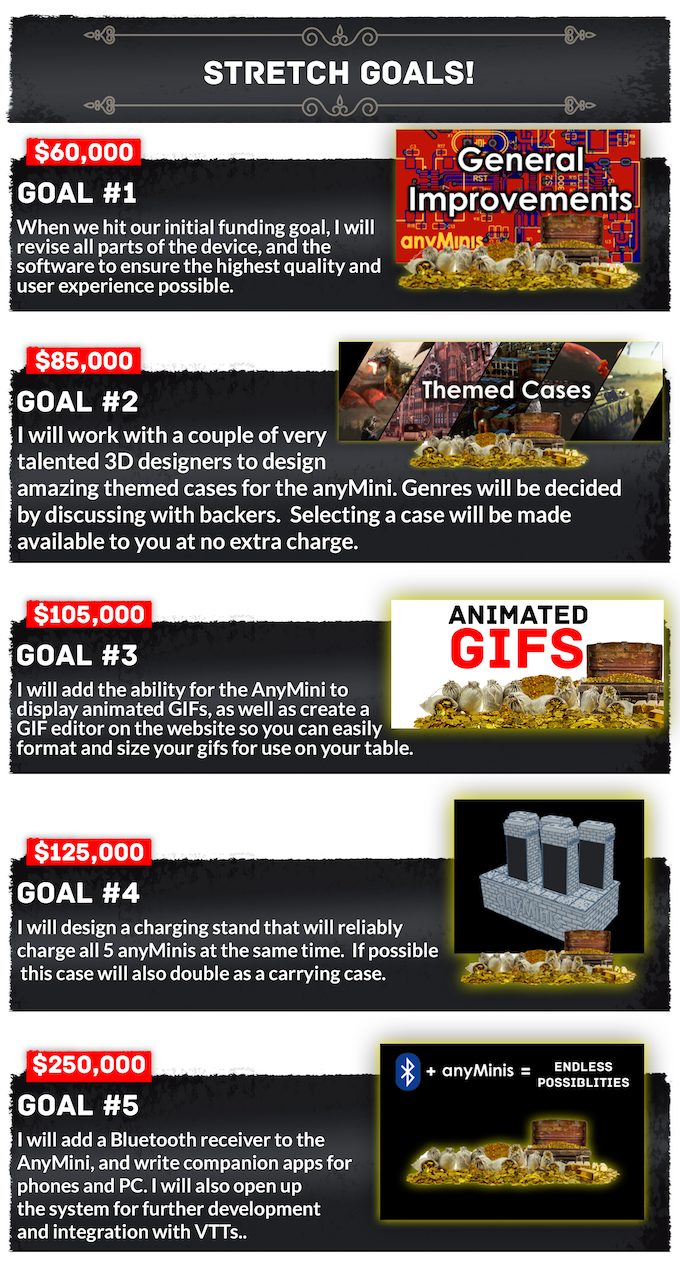 This is an accessory we here at That's Entertainment are super excited about! The AnyMini can be used for any system, which makes it a great tool for the avid game player. Even if you only play a certain game, these make for great tools and keep the amount of storage space you need minimal. Back it today on Kickstarter!
The following two tabs change content below.
Michael DeAngelo
Michael is the creator of the Tellest brand of fantasy novels and stories. He is actively seeking to expand the world of Tellest to be accessible to everyone.
Latest posts by Michael DeAngelo (see all)